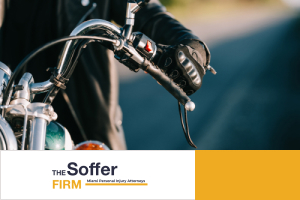 Florida is an excellent place for motorcyclists, but there are some things you should know before hitting the road. There are motorcycle laws that motorcyclists must follow in Florida.
In this blog, we cover everything you need to know about Florida's motorcycle laws. Knowing the rules and regulations before riding a motorcycle in Florida can help you and your Miami motorcycle accident lawyer ascertain the best possible way to obtain damages after your motorcycle collision in Florida.
What Are Florida's Motorcycle Laws?
Motorcyclists are subject to specific rules and motorcycle laws in Florida. It is required for individuals who ride motorcycles to:
Have a motorcycle driver's license
Have working headlights
Wear a helmet and eye protection
Obey all traffic rules and regulations
Have their motorcycle license plate displayed at the back of their motorcycle
Only carry one passenger if the motorcycle has an additional seat
Keep both wheels of the motorcycle on the ground
Keep both hands on the handles
Position handlebars at or below the level of the shoulders
Motorcyclists Should Have Insurance in Florida
In Florida, motorcyclists must follow two sets of regulations. The first is concerned with what insurance policy you'll need to carry when riding without a helmet lawfully in the state. The second is concerned with the liability insurance you must have to drive a motorcycle legally in Florida.
In addition to being at least 21 years old, you must have at least $10,000 in medical insurance benefits when you ride a motorcycle without a helmet. If you're injured in a motorcycle accident, this insurance will cover your injuries. Motorcyclists are not required to purchase this type of insurance policy, but if they don't want to wear a helmet, it is required.
All motorcycle riders must carry liability insurance, as well. You must have at least $20,000 for bodily injury liability coverage, $10,000 for property damage plus bodily injury per person, and at least $30,000 as your single-incident liability limit. It is against Florida law to drive a motorcycle without the necessary insurance requirements even if you wear a helmet.
Motorcyclists Must Have a Motorcycle Endorsement
In Florida, one of the Florida motorcycle laws is that you must have a motorcycle endorsement on your driver's license. This requires riders to undergo specialized training for motorcyclists. Obtaining a motorcycle endorsement without having a regular driver's license is possible in Florida. To lawfully ride a motorbike in Florida, you must have a motorcycle endorsement specific to motorcycles.
Motorcyclists Are Required to Use Daytime Headlights
Even in broad daylight, Florida law 316.405 states that motorcyclists must use a headlight. This law clarifies that failure to utilize a headlight does not constitute negligence in a civil case. However, if the failure to use a headlight is the immediate cause of motorcycle accidents, it may be used as evidence of the motorcycle rider's negligence in a civil case.
A Motorcycle Rider Has the Right to Full Use of the Lane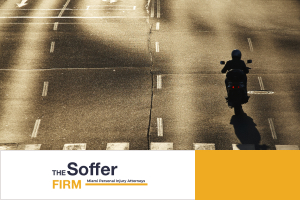 The rules of the road apply to Florida motorcyclists, according to Florida Statute 316.208. When you ride a motorcycle in Florida, you must adhere to the same regulations that other motorists must follow. You can't weave in and out of traffic. You must follow and obey all traffic signals.
You are also entitled to the same rights that other drivers have on the road. You have the right to use your entire lane, but you may also share a lane with another motorcyclist. According to Florida law 316.209, other drivers must allow you full use of a lane. Even though you may not drive between traffic lanes or rows of cars, you may ride two abreast with another motorcyclist if you so desire.
All motorcyclists in Florida should be aware of the state's helmet regulations. All riders are subject to Florida's helmet rules. In addition, whether or not you wear a helmet may affect your right to financial recovery and lost wages if you're injured in a motorcycle accident.
Whether you are wearing a helmet or not, you should consult with an experienced Miami motorcycle accident lawyer if you have been hurt in a motorcycle accident.
Florida Has Motorcycle Helmet Laws for Motorcycle Riders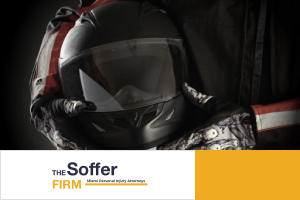 Florida's helmet law requires individuals under the age of 21 to wear a helmet when riding a motorcycle. The helmet law also requires motorcyclists to wear a helmet if they don't have at least $10,000 in medical coverage in case of a motorcycle crash, regardless of their age. The motorcycle helmet law in Florida is F.S 316.211.
Motorcyclists Cannot Do Lane Splitting in Florida
Lane splitting is illegal in Florida. Per F.S. 316.209(2), motorcyclists are not allowed to "overtake and pass in the same lane occupied by the vehicle being overtaken." Motorcycle riders must maintain a safe distance between themselves and the vehicle in front.
Motorcyclists Must Follow Florida's Equipment Requirements
To lawfully drive a motorcycle in Florida, you must follow the necessary equipment required, or else you risk being ticketed, fined, or having your license revoked.
When driving a motorbike in Florida, you must always use an eye-protective device that has been approved by the Department of Transportation (DOT). This is stated in F.S. 316.405. This allows bikers to see clearly and comfortably at speeds while also preventing insects and dust from entering their eyes or impairing their line of sight.
A windshield isn't enough to see with clarity while riding a motorcycle. It's difficult to open your eyes and see properly, much less look through them, at high speeds without goggles. Look for the following characteristics when purchasing eyewear:
A good pair of goggles, glasses with highway safety lenses, or a helmet with its built-in face shield
Scratch-free, shatter-proof, and has good ventilation-eyewear to prevent fog build-up
Non-tinted eyewear for night riding
A helmet is the most important protective headgear device. In the event of motorcycle collisions, helmets have been proven to save lives and prevent brain injuries. Motorcyclists who do not wear helmets are forty percent more likely to die from a fatal head injury and fifteen percent more likely to suffer a non-fatal head injury, according to the National Highway Traffic Safety Administration.
When riding a motorcycle, you must use durable, heavy-duty gloves. It is required under Florida law, but wearing gloves makes riding safe and pleasant. Using motorcycle gloves allows the motorcyclist to have a firmer grip, and they provide wind protection to the rider. Choose long, gauntlet-style gloves to avoid airflow up your sleeves.
Gloves are available in a variety of materials and designs, and some are made to be used in various weather conditions, such as cold temperatures and rain. Because the climate in Florida is generally warm throughout the year, many trustworthy manufacturers include air intake vents on the finger regions of the gloves and built-in venting systems.
On both the right and left-hand sides, motorcycles should have rear-view mirrors, headlights, taillights, and turn signals. These accessories assist motorcyclists in seeing other vehicles on the road and make them more visible to other vehicle drivers.
Motorcycles must have state-issued license plates displayed on the motorcycle's exterior rear. Riders under the age of 21 must have a color-coded license plate with a different design from the standard ones to make known to the Florida law enforcement the biker's age.
If you want to carry a passenger, your motorcycle should be equipped to do so. To legally carry motorcycle passengers in Florida, you need to equip your motorcycle with a backseat area and footrest for passengers.
Are You Injured in a Motorcycle Accident in Florida? Contact Our Experienced Miami Motorcycle Accident Lawyer for a Free Consultation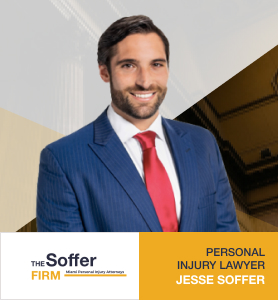 If you've been hurt in a motorcycle accident or wondering how Florida motorcycle laws may affect your rights, contact our skilled Miami motorcycle accident lawyer for legal help.
We understand that if you're hurt in a motorcycle accident, you need assistance right away. For a free consultation, contact us now at 786-788-7344 or visit our website to know more about us. You can also fill out our contact form, and we will get back to you ASAP. We're here to serve you 27 hours a day, 7 times a week.